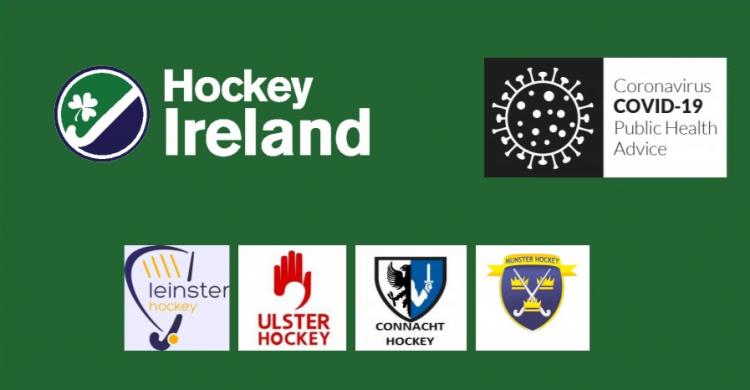 June 19th 2020:
From Monday 22nd of June clubs can start reduced activities and skill training in instances where the club can comply with the Hockey Ireland issued protocols and Government regulations as part of Step 2 of the return to hockey.
Summary of guidelines from Hockey Ireland:
Government travel restrictions should be observed.
Activities will only be allowed for small groups.
Social distancing rules should be adhered to at all times.
Hockey activities will be limited to outdoor activity only.
Clubs should have a mechanism for contact tracing participants. i.e. a booking system, log etc.
Individuals who are unwell should not participate in their sport.
Clubs should appoint Covid-19 Compliance Officer(s) and are advised to apply checklists for their club activity to ensure consistent compliance with Hockey Ireland protocols.
Caution is advised for those who intend to engage in high intensity training following a recovery from COVID-19. Individuals should seek medical advice prior to a return to training.
Club House and toilet/changing room facilities should remain closed.
Competition is not allowed.
Specific information from Hockey Ireland Guidelines:
All on-field activities should allow for 2m physical distancing guidelines to be adhered to.
Good hand hygiene should be practised before and after each session by all using the field of play.
Players should only touch their own equipment and should minimise the amount of equipment they bring to the field.

Essential personal equipment (e.g. water bottle, hand sanitizer) should be kept separate from other players in a designated area away from dug outs.
Players should not remove playing equipment (such as shin guards) and throw it on the side of the pitch.
Bibs should not be used; players should bring designated shirt colours in advance if required.

All coaching equipment should be disinfected before and after use.
Goalkeepers should only train if they have their own designated (not shared) goalkeeping equipment and equipment should be disinfected after each session.
Training of penalty corners is not permitted during this phase. Players/coaches should not bring defensive masks onto the field.
Field equipment (such as goals, nets, corner flags) should not be touched during the session. If this is unavoid able, clubs must disinfect any equipment where there has been contact.
Please click on the link below for more information from Hockey Ireland;
Hockey Ireland - COVID-19 Update No. 7
June 3rd 2020:
On 26th March 2020 Hockey Ireland announced that the 2019/20 hockey season for all league, cup and all other domestic hockey competitions in Ireland were deemed to have finished.
"Hockey Ireland is working closely with Sport Ireland and Sport Northern Ireland to develop guidance and protocols to enable a safe return to hockey activities, including training and competitions."
As of 27th May 2020 Hockey Ireland's return to hockey protocols had not been released and the Irish Government has not listed hockey as one of the sports that can resume activity.
Adherence to current restrictions is recommended and individuals should refrain from organising on-field activity.
Please click on the link below for more information from Hockey Ireland;
Hockey Ireland - COVID-19 Update No. 5
Please click on the link below for more information from the HSE;