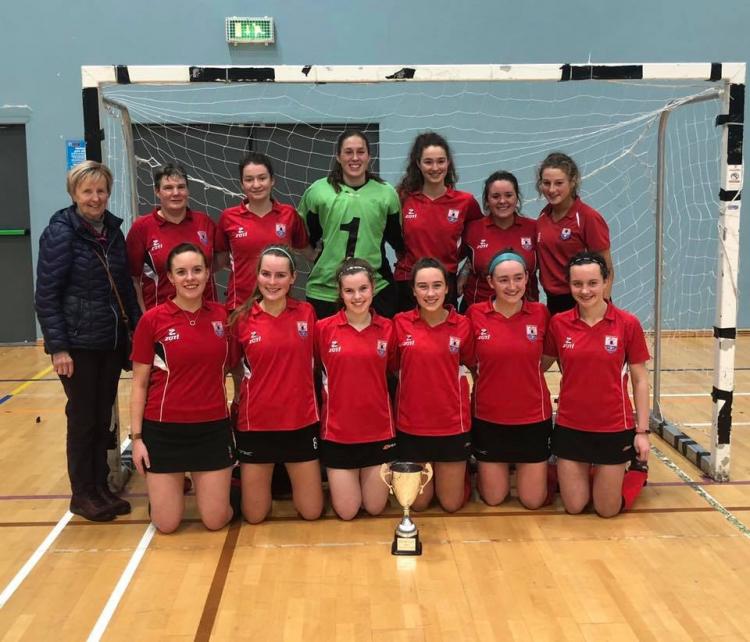 Galway HC have successfully retained the title of Connacht Indoor Ladies Champions for the second year in a row. The Tighe Indoor cup was first introduced last year, 2018. The winner of the Tighe Cup then competes at the National Indoor Tournament held at the end of January each year.
The 2019 Tighe Cup was held on January 6th in the Kingfisher, NUIG.
In the group stages Galway HC beat NUIG and Greenfields 2nds in their first two morning matches. A 2-1 loss to Greenfields 1sts placed Galway 2nd at the end of the group stages.
Greenfields 1sts beat their 2nd team in the first semi-final match, qualifying for the evening final.
Victory for Galway HC vs. NUIG in the second of two semi-finals resulted in a Galway vs. Greenfields play-off for the title.
Fiona Kelly, team captain, scored the first of three goals for the Galway side in the final match. Galway beat Greenfields 1sts 3-0 to retain the title of Connacht Tighe Indoor Cup champions for the second year in a row.
The team are currently preparing to face the Ulster Regional champions in their first match at the National Indoor Tournament, taking place in Antrim on January 27th, 2019.
Management: Norah Folan (Tournament Coach), Nicola van der Walt (Manager).
Players: Fiona Kelly (Captain), Emma Glanville (Player-Coach), Gillian Downes, Ailbhe Folan, Emma Johnson, Sarah Johnson, Eabha Mannion, Eve McDaid, Emer O'Connell, Aoife Quinn, Michaela van der Walt (GK), Eimear Walsh.
Thank you to all club members who volunteered on the day of the tournament and thank you to those who were involved in the coordination of the indoor team.
Congratulations ladies, and we wish you the very best of luck for the National Finals!
Photos of the team are available on the Galway HC Facebook page.
https://www.facebook.com/GalwayHC/photos/a.10151955733539485/10157036232729485/?type=3&theater
Featured on The Hook hockey site; follow the link below:
http://www.hookhockey.com/index.php/2019/01/munster-and-connacht-champs-confirmed-as-indoor-gospel-spreads-far-and-wide/?fbclid=IwAR0jcdz2oi_Vc76lRqJWhqC9oJLImOA2NqzSoOxA2HDjB7Y7OKOBEjKKjq4#.XDkCFVyeREZ